I wanted to show you a few of the fabulous links to Table Top Tuesday this week. There is always so much inspiration, it is hard to pick just a few. If you missed any of them, you really need to make the rounds. You will be so inspired.
I drool over this kitchen each time I see it and her vignettes and tablescapes are always so stunning. If you havn't been to
The Little Round Table
you really need to visit.
Her tablescape with this wonderful napkin lady and the egg topiary, is gorgeous.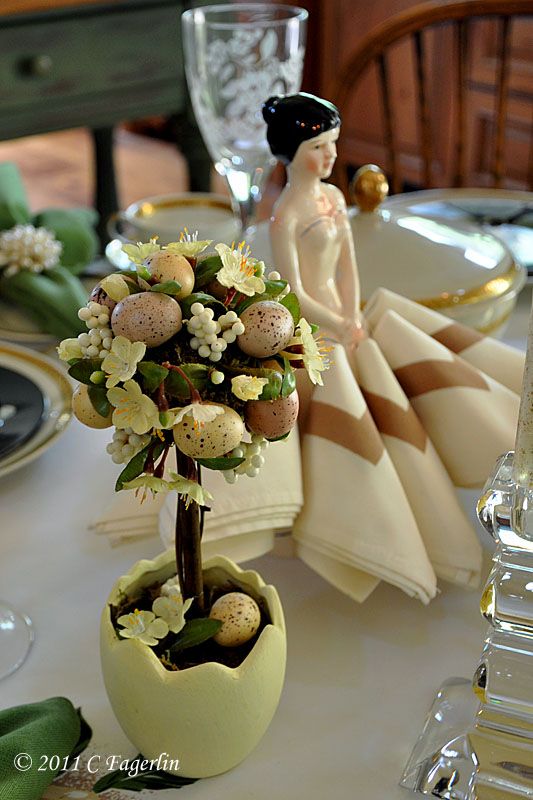 This garden setting and the views will have you wishing you were there. The flowers, the dock and the gorgeous tablesetting are all fabulous. Be sure to visit
Home Is Where The Boat Is
.
Don't you just absolutely love this little bunny riding the roo. She has the most fabulous collection of unusual bunnies and such gorgeous vignettes. Be sure to check out
Hyacinths For The Soul
.
Miss Kopy Kat
has created some of the prettiest vignettes using real grass that she grows. Tons of inspiration that you really have to see.
On Sutton Place
has totally refreshed her living room and it is so pretty. I loved the tray vignette that she created.
Look at this beautiful garden table vignette. She also takes you on a tour of Mackinac Island. If you havn't visited
Sharing With Sherri
you've missed a ton of inspiration.
I really appreciate all of the links to Table Top Tuesday and I am always left in awe of all the talent and creativity in blogland. Try to visit as many as you can, you will be so inspired and just might find something you can copy. Also I would love for you to grab my "I've Been Featured" button.
Thanks so much for stopping by, I always appreciate your visits.