I love this wood antique bucket. It is so different. It was used to haul all kinds of things years ago. I think it's the perfect container for a fun Fall arrangement for the breakfast table.
See the old wood and the iron straps. This was a gift from my daughter some time ago and I just love it. So much character.
See how the handle is reinforced with a piece of iron strapping and the old nails that hold it all together. Perfect to hold a bunch of fruit.
A couple of sunflowers, a bundle of wheat and all kinds of grapes, gourds and fruit.
A crewel tablerunner done in wonderful Fall colors, and the addition of my antique wood rooster finish the table vignette.
Now the breakfast room is all set for Fall.
Little by little I am getting a few Fall arrangements done. How about you, are you getting your house ready for the season?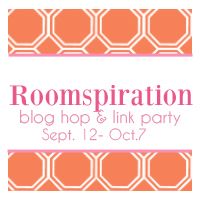 I am linking to Roomspiraton for Show Off Your Dining Rooms @
Involving Color