Are you in the process of getting all your Fall Decor out? This week for TTT we had so many gorgeous vignettes, and it seems everyone is beginning to think Fall. I picked just a few to help inspire you.
Chari @
Happy To Design
always creates the most amazing vignettes. Her console display is stunning. I especially loved the compot filled with feathers and acorns. How gorgeous is this. Of course the fact that she used a cloche made me swoon.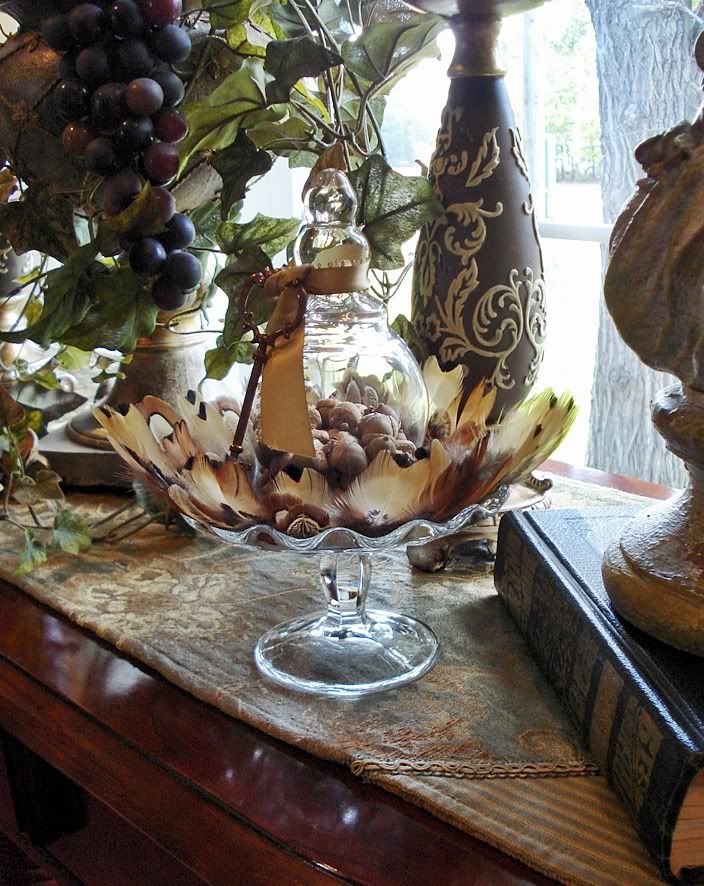 Look at this refurbished lantern vignette that was created by
J Bigg's Little Pieces
. How cute is this with the fall leaves and the bird and nest inside. She's also a newby blogger, so stop over and give her a welcome.
I love this fall mantel that
Jo's This and That
created. Love the pheasants and that gorgeous urn.
I love this secretary and her displays are stunning. I just drooled over every one of her pictures. Be sure to go and visit
upstairs downstairs
and take a closer look at her vignettes.
Alderberry Hill
made these absolutely adorable fabric pumpkins. Aren't these just the cutest. She's also a newby blogger, so be sure to give her a big hello and welcom.
You just will not believe this Back To School mantel that
Whatever Is Lovely
created. I think this is so fantastic and so creative. She's also a fairly newby blogger so be sure to give her a warm welcome too.
There is so much creativity and eye candy in blogland. I am just amazed every week. Hope this helped give you a few ideas. Also, be sure to stop by the new bloggers and say hello.