Every week for Table Top Tuesday I am just in awe of how creative you all are. It is always so hard to pick just a few, but these were the ones that seemed to speak fall and the season to me. I hope you will visit these lovely ladies and all of the participants in the party. You are sure to be inspired.
This tablescape took my breath away. This is called Harvest Time by
Just look at this centerpiece. How perfect is this!!!!!
I am sure we all relate to how hard bookcases are to accessorize and still house all of the stuff we need in them. Well wait until you see how
Shabby Love
took their bookcase from this to - - - - - -
this. Wow I love it.
This basket with the plaid, antlers, horse and nature inspired elements is absolutely stunning. You also really need to see the rest of the entry. Gorgeous. Be sure to visit Babs @
Upstairs Downstairs
to see how beautiful everything is.
With the cooler temps and the feeling of fall, can't you just imagine snuggling up next to the fireplace and enjoying dinner at such a beautiful table. Chari @
Happy To Design
always creates the most beautiful settings. You really need to see her entire room. Fabulous.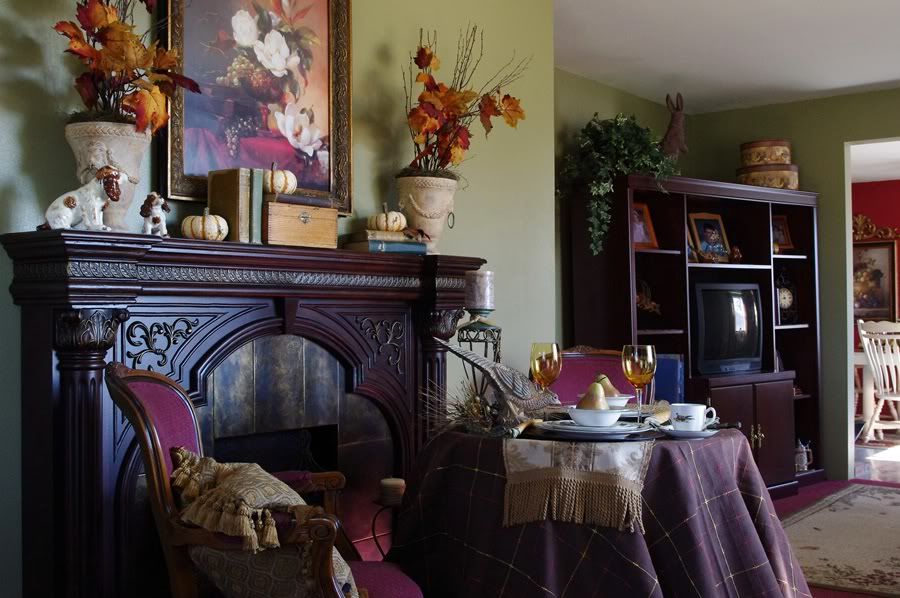 All of these ladies are so talented and are sure to inspire you. If you missed any of the entries for Table Top Tuesday, you really missed a lot. I hope you will visit as many as you can.
Have a super weekend and I will see you Monday evening for TTT.