Welcome and first, thank you all so much for all the Congrats and Best Wishes for our Anniversary. We had a super weekend and a nice dinner out to celebrate. Thanks again.
We had so many newby bloggers join us last week, that I just had to introduce you all to them. I know you will want to go and welcome them to blogland and make some new friends.
Organized Chaos
has been re-organizing her kitchen walls. Love the rake holding the wine glasses.
The Victorian Journey
shares part of her fabulous collections. Love this curio cabinet and all its treasures.
One More Time
created this fabulous feature for her garden. The top is a plate, and she shows us how to put all the pots together. How fun.
Gray Cardigan
shares her summer mantle and her beautiful shell topiaries. This is just the tip, so pretty.
SKLongImages
created a beautiful coastal Memorial Day Tablescape. Gorgeous.
House by Holly
not only shares her beautiful front door, but she give us the most fabulous tutorial on how to professionally paint ours.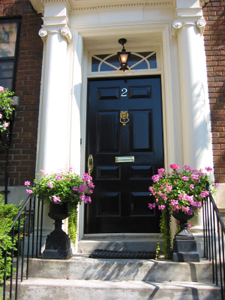 The Pickin' Pair
take us on a tour of the most fabulous museum Village. Loved it.
Just Wanna Party
shares her recipe for these wonderful cupcakes. They sound sooooooooo good.
Vintage Connections
took a few things with no home and created such a fun and beautiful table centerpiece. How fun and creative is this. Love it.
I always love to see new bloggers joining all the parties, so be sure you go and say hello. Also, if you aren't a follower, I would love for you to become one, just click on my sidebar to follow through an RSS Feed, Linky, Networked Blogs, or Google Friends Connect. I am also on Facebook and Pinterest.