Today I have the pleasure on Show Off and Inspire to brag a little about Anne of White Lace Cottage.
If you havn't met Anne @
White Lace Cottage
you have really missed a ton of talent. She also has the greatest personality and is cute as a bug. She has so many wonderful decorating, diy projects and craft ideas it is hard to try and pick just a few.
Thank you so much Marty for inviting me to share my home on your beautiful blog.So excited to be a part of show off and inspire. We built our home 7 years ago. Hard to believe the time has gone by so fast. When we first moved in I thought I wanted to change my style. My previous home was more romantic shabby chic. But I fell in love with the farmhouse style .Which for me is a little bit French, farmhouse,romantic cottage,Nordic,industrial. Yes I am a bit eclectic.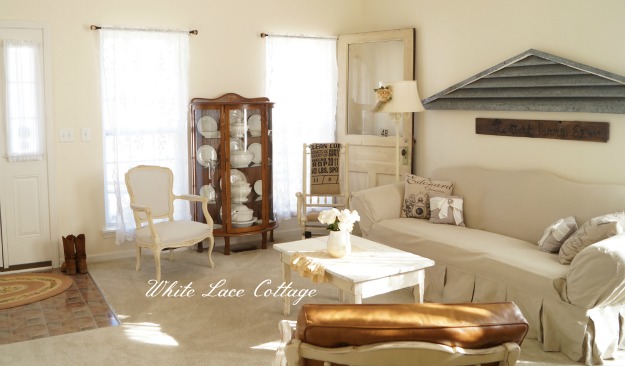 Using white as a backdrop for my home allows me to add bits of color here and there.The white I used on my walls is a warm white and works great with wood. I shop mostly at thrift stores,garage sales and antique stores. I love finding architectural pieces like old doors,windows and columns.They are so interesting to me.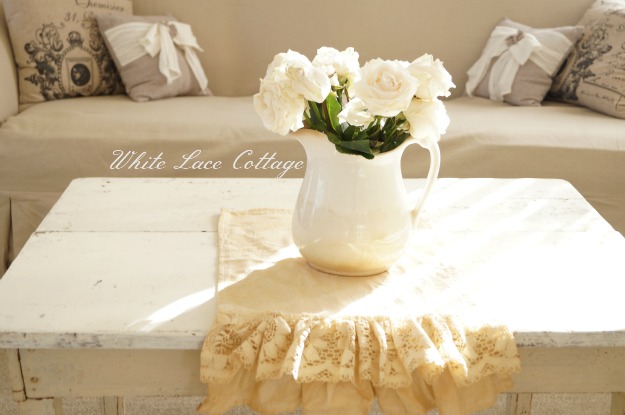 These old farm tables are a favorite of mine.Chippy painted pieces are perfect for my home. It is the texture of the paint that adds a bit of character to a piece and really makes it unique and one of a kind. I cut the legs down on this table to use as a coffee table. White ironstone or white dishes are another favorite of mine! I love finding these pieces.And I use them everyday.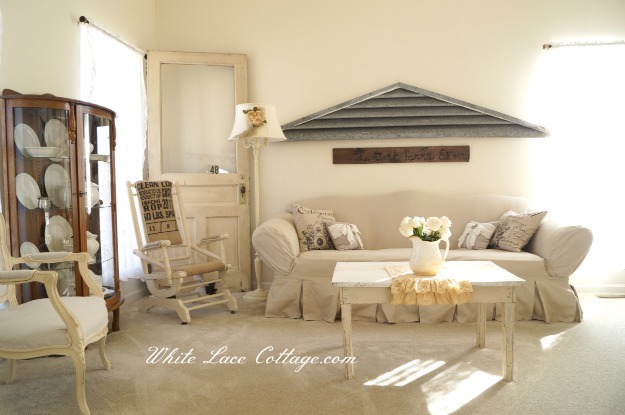 This dormer vent was a fun find.This room has a high ceiling and this piece works perfectly here,and adds a bit of the unexpected too! I added the slipcover to a very old sofa.So easy and a cheap way to change the look of a room. I reupholstered those two chairs to give them an updated look too. They were both painted with chalk paint


.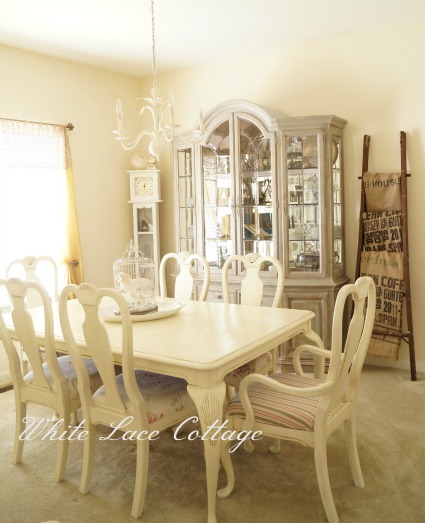 This dining room set got an update last spring.I used a primer on this table and chair set and painted it white.I finished it off with a glaze.The hutch was painted Paris gray and Antoinette in Annie Sloan paint. I even painted that chandelier while still hanging with Annie Sloan chalk paint. Yes paint can do wonders! It is a very inexpensive way to change just about anything! The fabric I used on the dining chairs were heavy fabric used for pillow shams.I simply cut off what I needed and recovered the chairs. Very easy and cheap to do.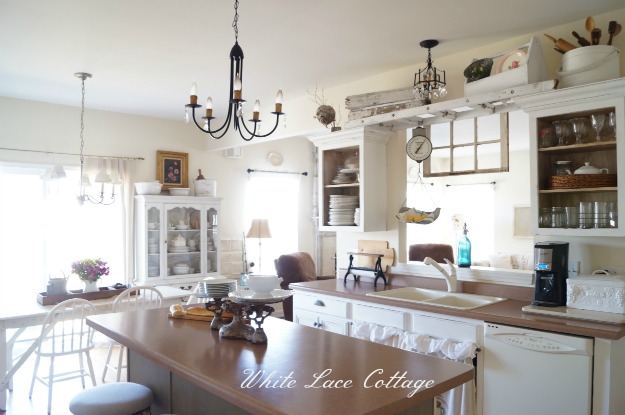 My kitchen cabinets are maple and were a cherry stain when we moved in.I painted these with Annie Sloan pure white chalk paint. Did I tell you I was a risk taker when it comes to decorating :-) .I love how these turned out and after almost a year they are holding up great! This added so much light to my home! Even on a cloudy day it is nice and light! I did distress mine just a bit when I painted them. I took those doors off the cabinets to give it an open feel.And added that ladder just above the two cabinets to join them together.It's fun decorating that and changing it out too!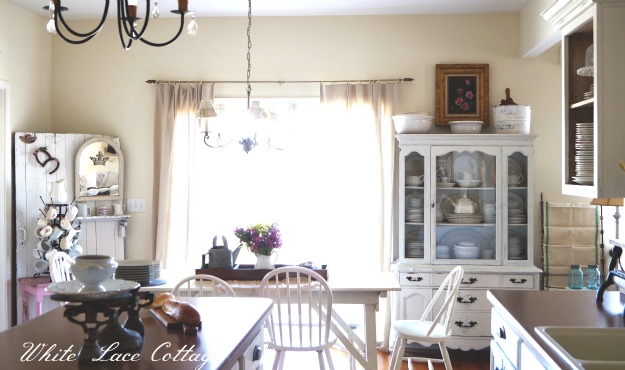 That farm table works perfectly in our home. Found at a resale shop in town. It was painted gray and I repainted it white. A mismatched set of chairs but very similar style work. The other side of the table is a bench. That French cabinet was found where else a thrift store for 45.00, and yes I painted it white.It stores more of my white ironstone and white dishes. That old barn door in the corner balances the room out, and is fun to change too. The French bottle rack makes a nice display but also stores my favorite cups that are used
everyday.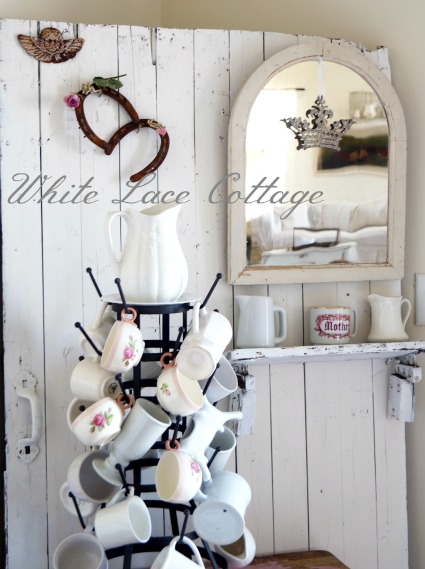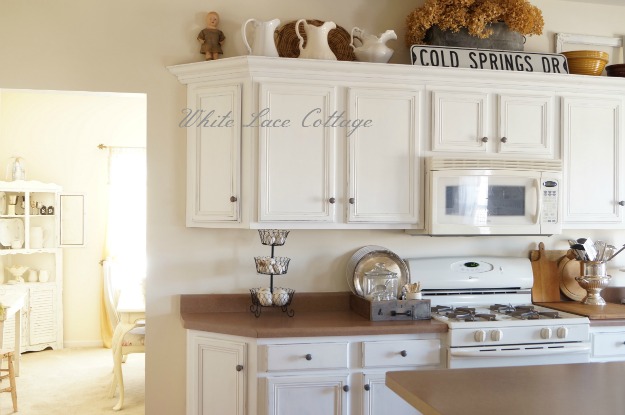 Cabinet knobs and pulls were found at a thrift store.They were all brass.I painted them to look like verdigris.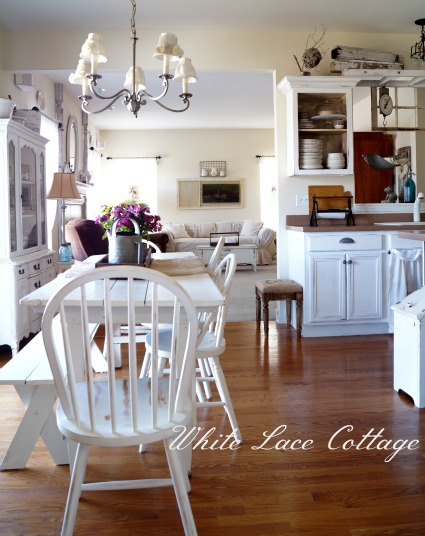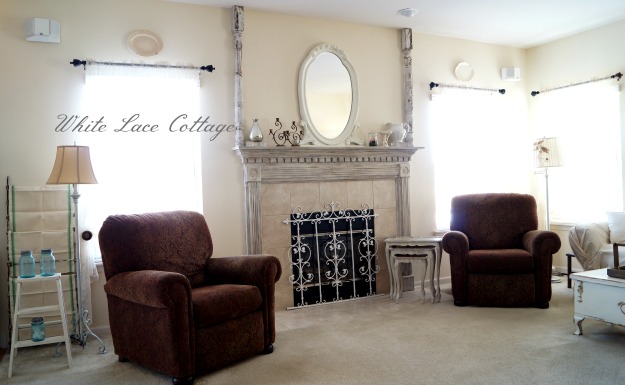 I painted my builders model mantle with Annie Sloan chalk paint and Miss Mustard Seeds milk paint.I wanted an aged look with a bit of patina.Those posts were cut down to fit on each side to add a bit of interest. That gate in front of the mantle is not old but new. Found at Hobby Lobby on clearance.I just painted it white.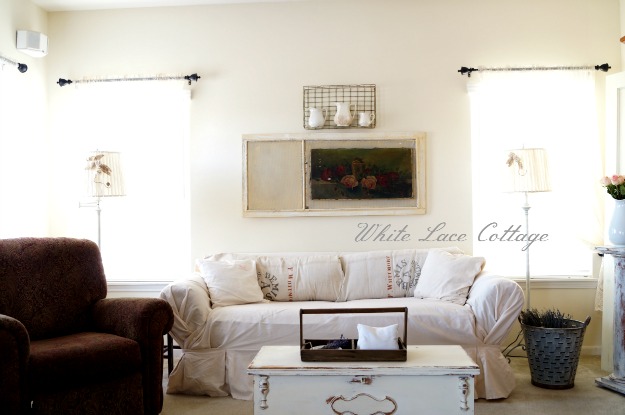 An old screen hung sideways is hung to my wall. I added an antique painting to add a bit of color. I just love the patina on it! A wire basket found while out antiquing displays some of my white ironstone.The blanket chest is perfect for storing our blankets.It does get chilly in the winter months and can be additional seating too!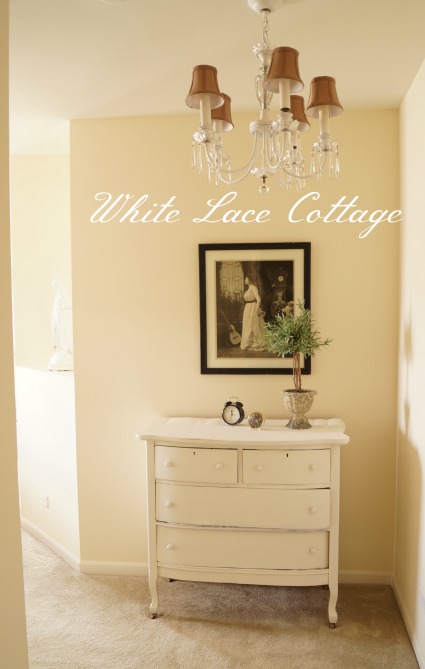 A chandelier was found for 10.00 while out thrift shopping.I thought it would look perfect in our foyer leading into our master suite.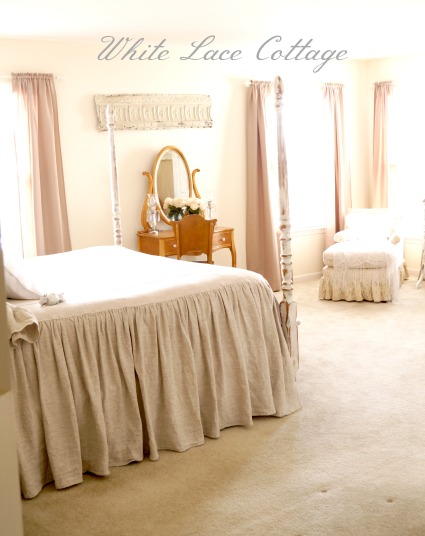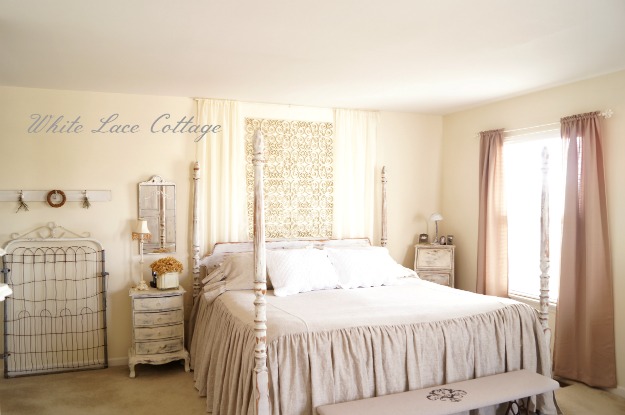 My bed was painted Miss Mustard seed paint in linen.It is a pine bed that needed an update from the 90's. Behind the bed is a pair of curtain panels.I also added the faux metal piece's for pretty wall art.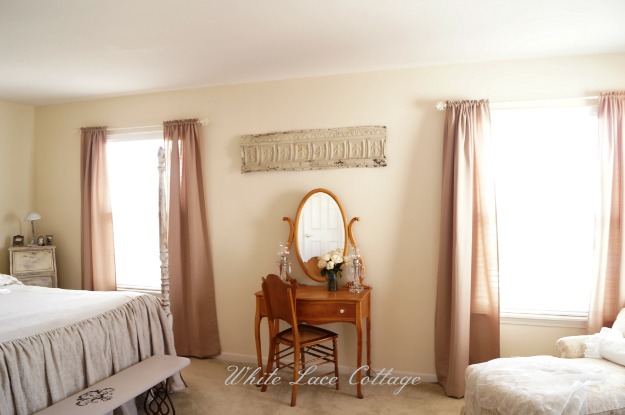 One piece I have not painted yet is this antique vanity.I do like having some wood mixed in with white. I found that vintage scrap piece of metal at an antique store.Love the color and patina.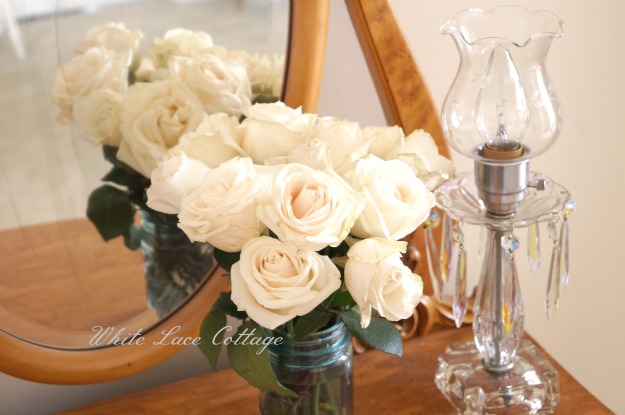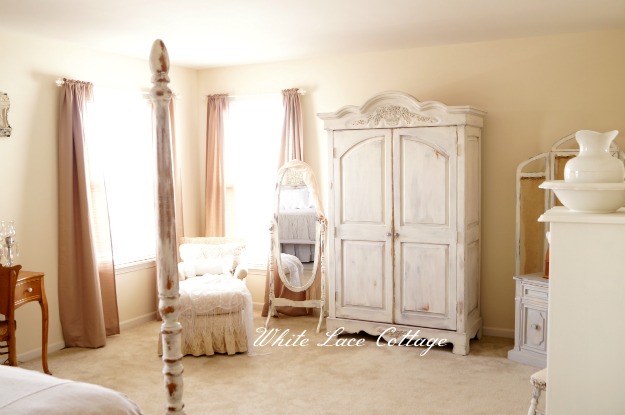 Another piece painted with Miss Mustard Seeds milk paint is that armoire.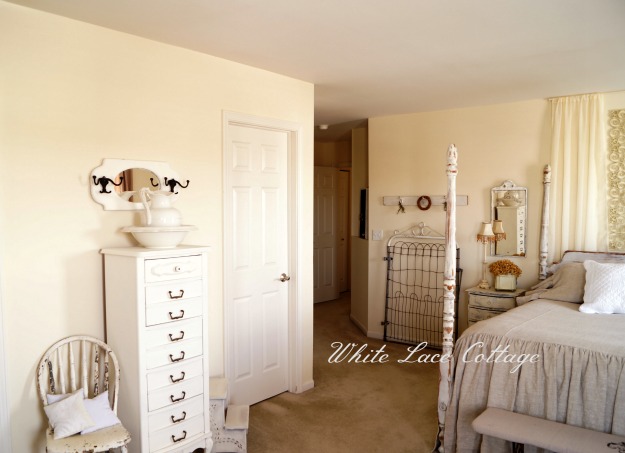 That tall linen dresser was found for free and I added the hardware found at a yard sale. Recently I redecorated my daughters bedroom.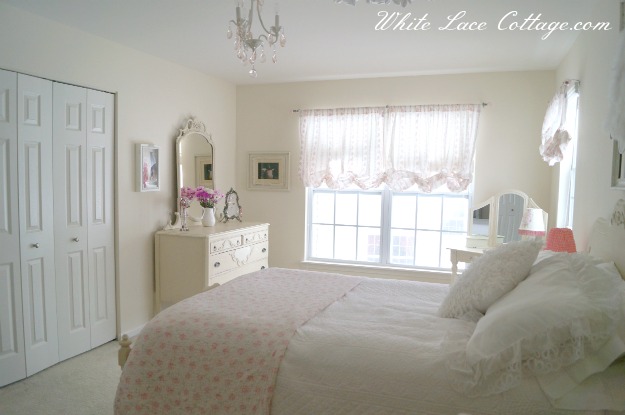 She still loves pink and frills even though she is a teenager.The bedding is Rachel Ashwell found on clearance for 10.00 a year ago.The blanket at the end of her bed was found many years ago at a flea market. Her desk hutch was a roadside find.I cleaned it up including all the stickers that were plastered all over it and painted it with Annie Sloan chalk paint old ochre.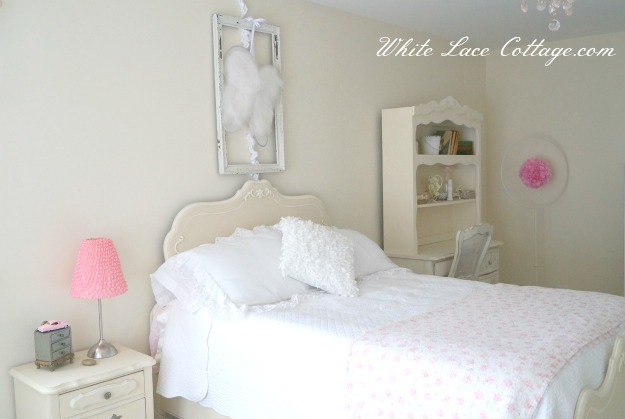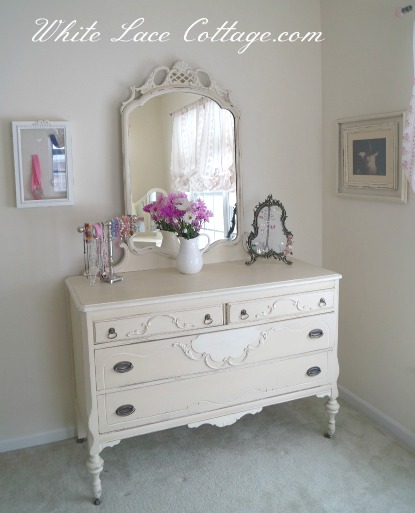 The bed and dresser were pieces I was planning on painting and selling so I already had these on hand. They were both painted with Annie Sloan chalk paint old orche and old white. That mirror for the dresser was found separately I made a jewelry display for her dresser made from a frame and wire screen.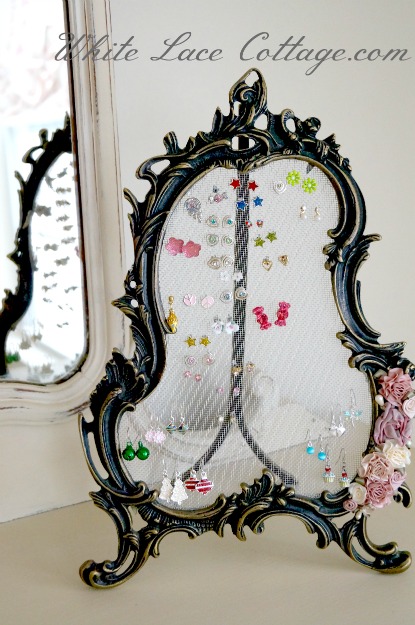 A towel rack is also used for her jewelry.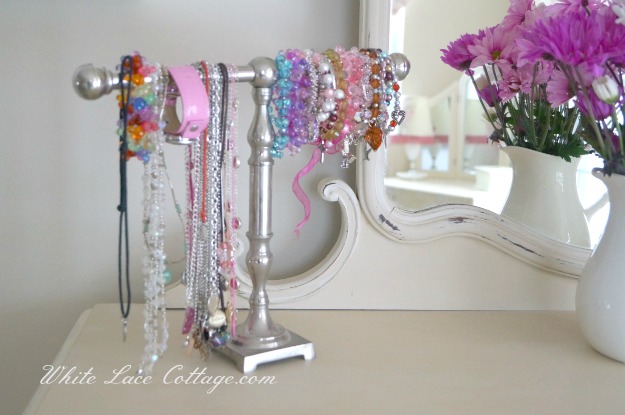 Her vanity table was a thrifty find.A Rachel Ashwell vanity table found at an antique store.I just changed out the fabric on the bench with retro looking French fabric.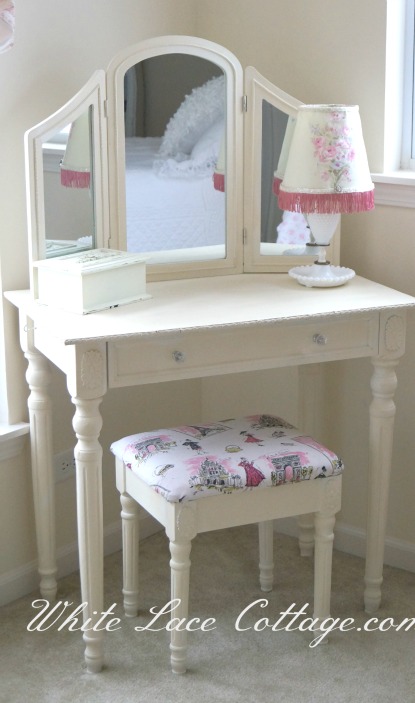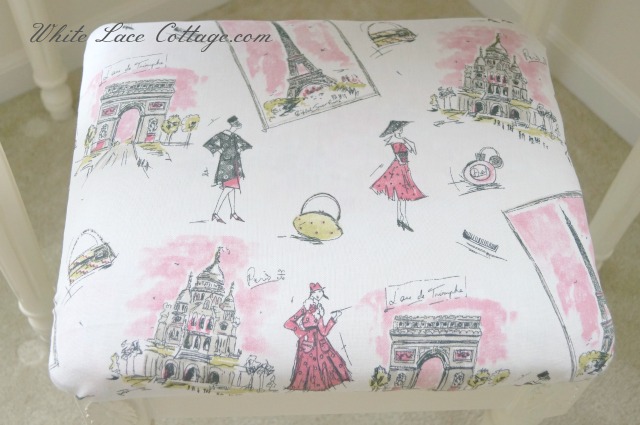 The chandelier was found at Menards for 60.00.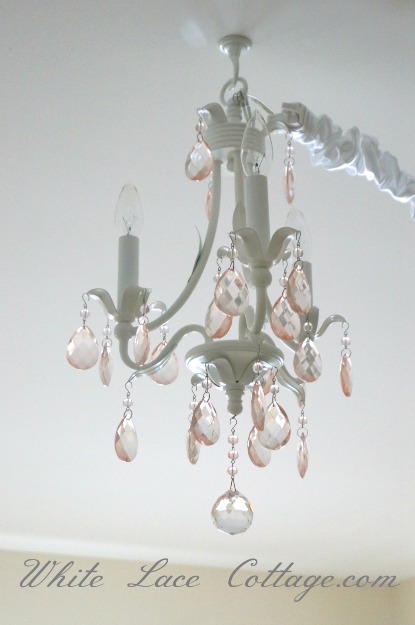 The bedside table was found at a thrift store.Full of stickers.After cleaning all that off I painted it the same color used on the bed and dresser.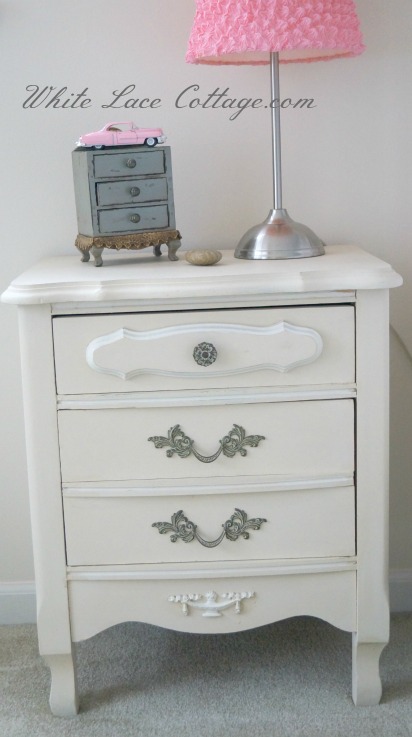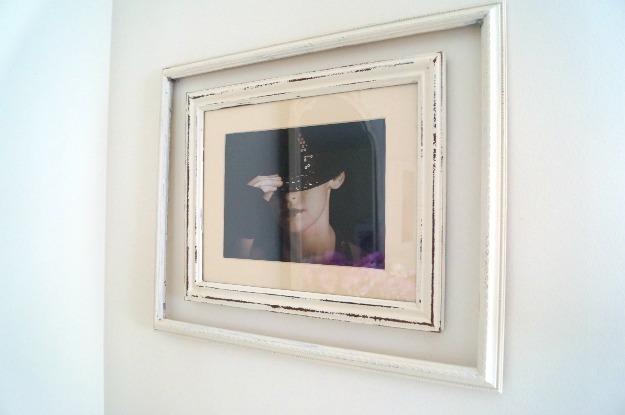 I love using frames to enlarge a portrait.Just placed around and existing portrait gives it more emphasis.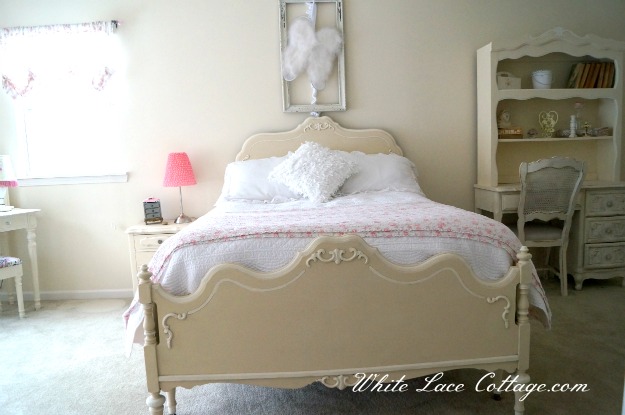 I am linking to the following parties:
Let's stay in touch, click below to follow A Stroll Thru Life