This is a sponsored post by
Wayfair
, but all opinions are mine.
It is almost time to be swimming again, so I can't wait to get a little bit more landscaping done around the pool. We have been adding tons of flowers and plants around the whole backyard.
Everything is blooming like crazy. I can't wait for the shrubs to grow a little taller too.
However - - - -
You know how it is, when you are trying to design something, there are so many decisions to make and without fail you don't think of everything.
When we built the pool I was so concerned about having as much kool deck for patio space as possible. I messed up and forgot one spot that really needed to have some of the cool deck too.
I just didn't think about this end of the pool and how it attaches to the patio. Since the steps to get in and out of the pool are on this end, I really need some kind of walkway or landing spot when people get out of the pool. You can't step out onto the rocks and so we put some carpet scraps there as a makeshift place to step onto. Not pretty at all. We need to fix this. We thought about having them come back and add more kool deck, but that is so expensive it is NOT HAPPENING. There has to be a decorative way to fix this problem and to make it look good.
Wayfair
contacted me to see if I would like to participate in their March Move The Party Outside Campaign. Of course I said yes. They allowed me to choose anything I wanted to use outdoors, so I naturally thought this area was perfect to finally put together a plan and fix it up.
We needed something that we could walk on and that would look good and bring some character to this area. I loved the idea of adding some natural wood, so when I found these fabulous
Eucalyptus Enterlocking Deck Tile
, I knew we could come up with a plan that would look great and solve my problem.
We had some wonderful travertine pavers left over from a previous project and using the two seemed like the perfect idea. Now to just figure out how to lay them out in a pleasing and functional pattern.
We just started laying them out to find a pattern that we liked.
This is not the best one we can think up.
I kind of like them criss-crossed in different directions. That looks good to me and adds more character.
Maybe laying them with a border around the walkway. We can cut the tiles to go around the pool and fill in the odd corners.
I love the fact that water can drain between the slats of the
wood tiles
and that they lock together. I also like them layed in the criss-cross direction best.
This just might work and give this area some character. We can carry this all the way over to the wall by that end of the landscaping. Also since we will have a wood fence around the air conditioner to camouflage it and muffle some of the noise, the
wood tiles
tie in beautifully.
I also picked out this outdoor bench from W
ayfair
that will look fabulous on the corner next to the block wall. That will be a great place to store floaties and pool toys.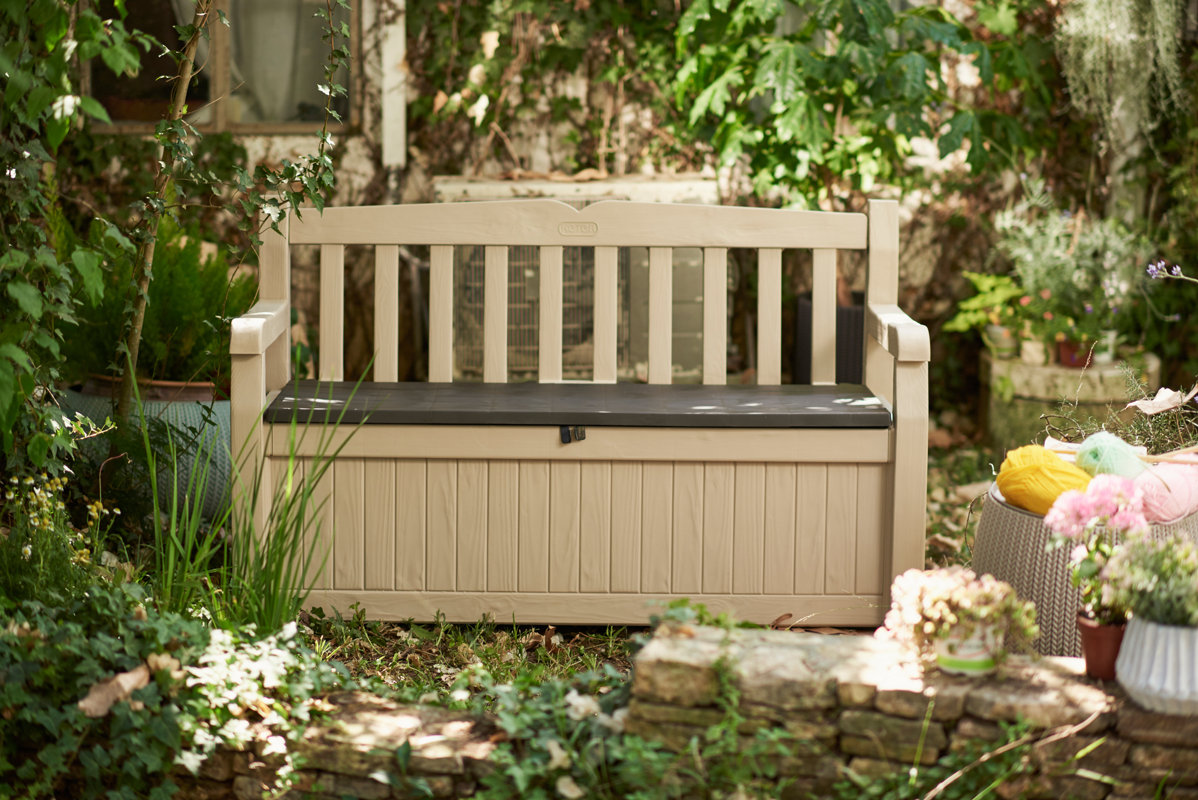 I love our pool and this is where I totally live all summer, so I can't wait to finish the landscaping and get the walkway done. I am still out of commission with my back, we are trying to decide if I am having surgery or not, so for right now finishing it up is on hold, but stay tuned, it will look amazing soon.
See that area back by the pool equipment. We will create the same pattern on the ground there to tie everything together. There will also be a wood fence around that equipment to close it off too. The tiles will keep that area dry so we can walk on them to access the equipment without walking in mud.
I can't thank
Wayfair
enough for including me in this fun March Move The Party Outside Campaign.
"This is a sponsored post, but all opinions are strictly mine."
If you like Thrifty & Chic on a Budget, I would love to have you follow me.
Have every post delivered to your inbox with Bloglovin