Welcome to the 60th Table Top Tuesday. I am so thrilled you've joined in today. I can't wait to see what everyone is creating.
I have spent the last couple of days trying to get some flowers planted in the yard and general clean up, and then I also had a fun play day with my daughter, so nothing new here. I thought it would be fun to show you some of the wonderful things that were included in last weeks party. Definitely tons of inspiration and eye candy, but here are just a few.
I love this pretty coffee table vignette with the bunnies from
On Crooked Creek
The grouping of all the bunnies is perfect and the urn is stunning. So cute to put a couple of the bunnies under the table.
Just look at this wonderful vignette. Don't you just love the vase and the tulips. Be sure to stop and say hello to a new blogger at
The Best Moments
.
Does this just scream SPRING or what. I love how she used vintage items to create such a fabulous vignette. Be sure to stop by
Opulent Cottage
and see all of her beautiful vignettes.
Just wait until you see this stunning garden vignette, and also check out the fabulous location and view. Beautiful. Visit
May Days
to see the whole garden. So lovely.
There is no way the top of my refrigerator looks anywhere near this good. I love this vignette created by
All That Glitters
. So pretty and so elegant.
Look at these precious bunnies and the eggs arranged in such a lovely vignette. This was created by another newer blogger, so please stop by and say hello to
The Ole Quaker Homestead
This tray is so pretty and yet so simple, proving great design isn't always complex. I love all the different textures, and the colors are wonderful. There's always something fabulous to see at
Now you really need to get up early in the morning to try and keep up with Chari at
Happy To Design
. Every one of her vignettes are total drool power and inspiration. I am always in awe.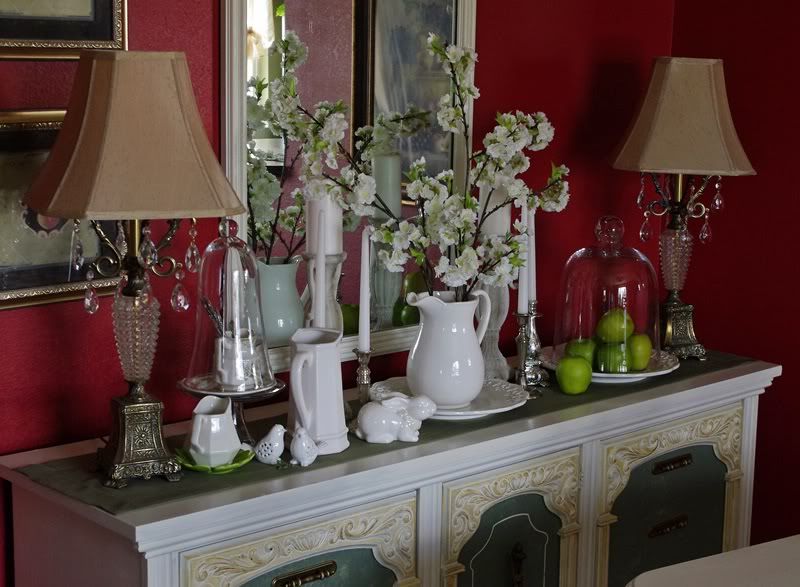 Now I can't wait to see what all you guys have been up to.
Thanks so much for stopping by, I always look forward to your visits.