June is definitely a time when we get a TASTE OF SUMMER. I am thrilled to be working with Wayfair again for their June Campaign. This is a sponsored post, but all opinions are my own.
Summer is in full swing around here and so is having fun with friends and family. We love to entertain and do so often. Nothing like having a group -large or small - get together to enjoy time around the pool.
Big groups seem to shift between the pool and the patio. It is always shaded and cool. It's also nice to be able to sit here and watch the others in the pool.
If there's just my grandson, then a small umbrella on the wading step is perfect for him. He can splash and enjoy the shade too.
To make the most of the decking around the pool, we need more shade. Wayfair came to the rescue with this fabulous cantilevered
Umbrella
and
Stand
.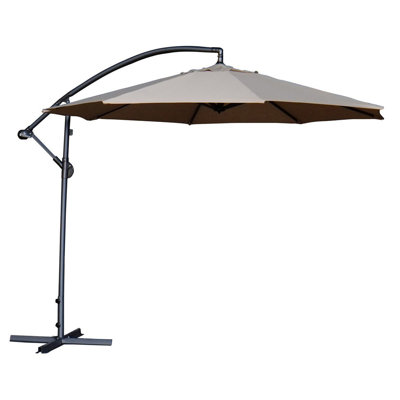 This umbrella is 10 feet across so it is large enough to shade both the table and the chairs. It's so nice that we don't have to have a pole sticking out of the center of the table too. This is large enough to shade all 4 chairs when we use them. It's also versatile enough that we can swing it around to cover a couple of chairs for those wanting to sit by the pool.
Since we entertain so often, I like to surprise hubby with a late lunch by the pool. Just the two of us. Gives us time to catch our breath, catch up with each other and relax for a while.
I have some chicken on the grill, so while it is cooking we can have some cheese, ham and crackers. I made a nice wine spritzer too. There's a fabulous salad cooling in the fridge when the chicken is done.
In the meantime, we can visit and just enjoy being outside and loving the wonderful shade our new umbrella gives us. We actually found out that the cross brace stand that came with the umbrella kept it more stable than the cast iron one we ordered. However, nothing will be wasted, we will use the cast iron base with one of our other umbrellas to move around the pool wherever we want additional shade.
Thanks so much to Wayfair for furnishing this wonderful
Umbrella
and
Stand
. I know we will enjoy this for years to come. It will be fabulous shade for our next big get-together next weekend too.
To stay up to date on all the makeovers taking place at our new home, I would love to have you follow me. You don't want to miss any of our

"Hits & Misses"

.
Have every post delivered to your inbox with Bloglovin